While pregnant it can be daunting the amount of information out there. Information on product must haves, information on products that are unnecessary and trying to weed through all that information can just be trial and error. Ultimately each person is going to love one product and hate another, but I wanted to share some of what I thought were life saving products. My kids are now 2.5 and 1. They don't use many of these products any more but when they were both newborns they definitely saved me from time to time. *affiliate links included*
When my daughter was newborn I COULD NOT get her to sleep for longer then ten minutes at a time in her bassinet until I finally started using white noise. We were given this machine from Homedics by my parents, admittedly it did break a couple times, mostly before I also bought a portable one and was trying to take this larger version around with us. Both machines I still use to this day, the larger one with my son when he sleeps at home, and the portable one if they ever nap away from home.
Pack N Play (w/ Bassinet)
When my children were newborns they did not sleep in their crib in their own room yet. Both for the first couple months slept by my bedside in a pack n play that had a bassinet attachment like this one. It was amazing, and as they grow it's easy to remove and store the bassinet and use the pack n play just as is. My son still uses one of ours napping out and about at times, my parents even bought one for babysitting their many grandkids so the baby would have a nice place to sleep when there.
Swaddles tend to be a must for most parents. Like I was saying with the white noise, my daughter would not sleep long without being held until we did two things, added white noise, and swaddled her. When we had her we had velcro swaddles and they were okay but she did tend to worm her hands out of it. When my son was born we found these Love to Dream Swaddles and they were earth shattering. Especially because my son is a thumb sucker and always liked to be able to chew on/suck his hands. This swaddle is tight and surpasses the startle reflex while baby is sleeping but allows them to sleep in a more natural position and allows them to have access to their hands, AND no more wiggling out of it.
Breastfed babies have the worst poops, I swear, and even when they're bottle fed there are often blow outs. These seat protectors are amazing for this problem when it comes to the car seat. Car seat blow outs are inevitable but with this pad it's easier to catch the blow out and clean up the mess without having to take apart the car seat and wash it time and time again. Once we found this for my daughter we even started buying them for baby showers for friends. IT IS SO HELPFUL.
Moby Wrap
I did not know a ton about baby wearing when I was pregnant but had seen so many amazing things about the Moby Wrap so I decided to get one and try it out. With my daughter we used it all the time. It is wonderful for shopping, especially while baby is too small to sit up in a cart. One thing I did find, however, is it is made of very thick fabric, so admittedly we used it more with my daughter, who was born in December then my son who was born in May. But I do know there are lighter fabric alternatives too.

Minbie Bottle/Nipple
I was very adamant about breastfeeding my daughter when she was born. I did everything that was suggested included not introducing a bottle until she was at least a month old. When I did introduce a bottle, however, it was really a challenge finding something she would take. Finally I found the Minbie nipples. These nipples are shaped more like a breast nipple. I found it was the perfect fit for my kids. My son, still uses these with his bottle at night. They used to be available on Amazon but I could not find them anymore. They are definitely still available through the companies site.

Although we loved the Minbie nipples, I admit the bottles were a bit small. We had received a set of Avent bottles from a friend and to my surprise the Minbie nipples fit in them perfectly. So we use Avent bottles. They are perfect with larger bottle options as your baby gets bigger and wants more at once.

We did not have a swing like this at all for my daughter. When my son came along I felt like this would be a good item to have. When I had two it allowed for me to put down my son somewhere he'd be comfortable and relaxed while I attended my daughter, but no matter if you only have one child, I highly recommend one. I wish I had it with my daughter. This particular swing is also very easy to fold up and take with. We even took it with us to our cabin at Yellowstone when my son was two months old.

Graco Infant Car Seat & Stroller
I absolutely love the Graco lines of car seats that fit with the stroller. The ease of removing a car seat from the car and buckling it right into the stroller and going is mind boggling. It was a must when our babies were little.
One of the saddest things for a baby is to have terrible diaper rash. If they happen to be bleeding because they are so chapped then what is even worse is putting a medication on that burns. We are a lover of Aquaphor for this reason. Desitin burns if your child is chapped, Aquaphor does not. It is great at hydrating the skin and relieving diaper rash without hurting the baby further.
What products were a must for you? I'd love input on what I may not have tried.
Sarah
Other products I love….
SaveSaveSaveSaveSaveSaveSaveSave
SaveSave

Similar Posts:
5 Unique Gifts for the Gadget Loving Dad on Father's Day
Love to Dream Swaddle Product Review
Graco Baby Swing Product Review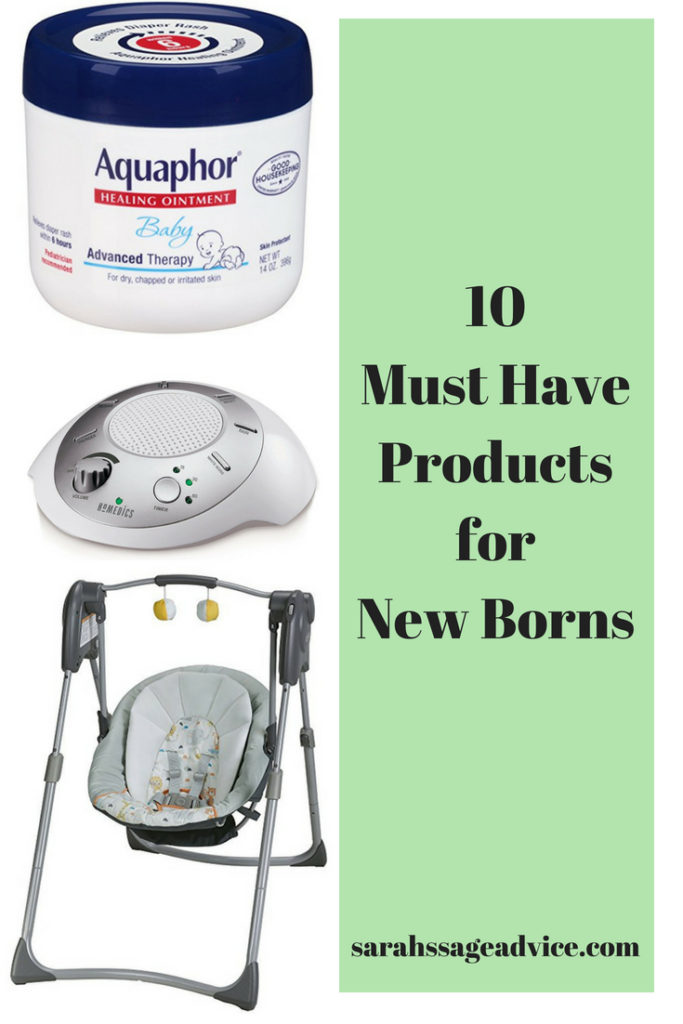 SaveSave
SaveSave
SaveSave
SaveSave